Welcome to South Boston's Broadway Pastry Coffee Shop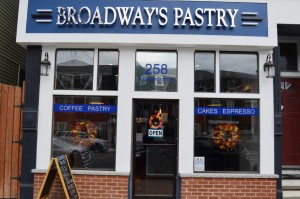 Broadway Pastry Coffee Shop vision is to bring South Boston a refined, yet modern, pastry & coffee shop.
The menu is composed of modern European style pastries along with American flavors and local influences . Our pastry selection includes individual cakes and entremets, tarts, croissants, muffins, danishes, and much more. Our selection of sandwiches, a local favorite, complement the pastries.
We are pleased to be the first coffee shop in South Boston to serve "Guglielmo Coffee" exclusively.
Guglielmo carefully chooses the different types of coffee imported, relying on qualified suppliers that can guarantee a consistent quality of the product. Green coffee, before being placed in the production cycle, is tested by specialists who carefully evaluate the organoleptic quality to ensure the aroma and taste of the blends produced.
Opened our doors in October 2015, Broadway's Pastry & Coffee Shop is ideally located in South Boston at 258 West Broadway.
Broadway Pastry Coffee Shop is committed to providing the premier coffee experience in South Boston by serving only the finest coffees, teas, and freshly baked pastries and sandwiches.